What you're racing for…
Entries into 2017 Southern Stoke Race Series:
– All 1st Place winners – ALL 2017 races Free
– All 2nd Place winners – 4 Free Entries
– All 3rd Place winners – 2 Free Entries
4 Coveted Carolina Cup Entries Up for Grabs:
– Men's 14′ Long Course
– Men's 12'6 Long Course
– Women's 12'6 Long Course
– 1 Additional winner from any other category will be awarded based on Standings AND Series Attendance.
Cash: 1st – $100  2nd – $50  3rd – $25
– Men's 14′ Long Course
– Men's 12'6 Long Course
– Women's 12'6 Long Course
– Women's 14′ Long Course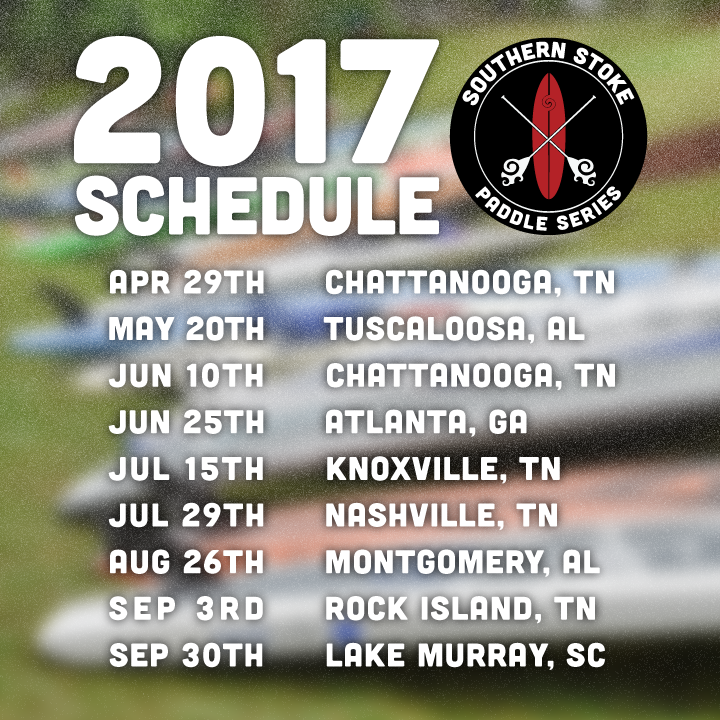 Low Point Scoring System

Racers are assigned points according to their place at the finish line. (1 point for first, 2 for second, etc.) Racers who do not finish a race, retire, or are disqualified, score the number of racers in the race plus one. The racer with the lowest total score wins the series.
In order for this scoring system to make sense, all racers must be scored on the same number of races. Since the series takes place over several months and not every racer can attend each race, the scoring threshold is set to 5 out of the 9 races. Racers who attend fewer than 5 of the races do not "qualify" and are not scored for the season. Racers who attend more than 5 races, have their highest scores thrown out and are only scored on their best races.
With this system, you are never penalized for missing races, unless you miss so many races that you do not qualify to be scored for the season. The racers who participate in more than the minimum number of races are rewarded by being able to throw out more of their worst scores. The system is designed to encourage participation. Throwouts are only allowed in the end of season scoring. Progressive results are computed without throwouts.
Each category (or Class) must have at least 3 racers in order to qualify for series points.  In other words, if there are not enough competitors to podium in a particular category, that race will not count for that category in the series.  If at the end of the season there too many races that did not qualify, an alternate method will be used to determine series standings.
The series points will be scored for the following categories:
M/F 12'6,  M/F 14', and M/F SUP Under 12'6.
Unlimited boards, Prone boards, Outriggers, Canoes, Kayaks, and Surfskis will not be awarded in the series but these categories can be recognized at individual races per directors discretion.
Each race will consist of a  "Short" and "Long" category.  A "Short" race will consist of 2-4 miles and a "Long" race will consist of 6-14 miles which will be at each director's discretion.
All race events will follow WPA rules even though the series is not sanctioned by the WPA.
Board and Distance Jumping- A racer must complete 4 of the scheduled races to qualify for the end of the series points and prizes. Racers must also use the same board class and race length for 4 of the races.
Examples below based on a competing in at least 5 of 9 race in the series:
ie: Jim has a 14' race board and wants to compete in the "Long" category for the series. He participates in 6 races during the series. At 1 of the races he decides to race in the "Short" race because he was up late boozing the night before. Since he still competed in the "Long" race for 5 of the 9 races, only those points would be counted. The one "short" race would be thrown out. If Jim were to podium in the "Short" race he would be awarded only for that individual race.
ie: Suzy competes in 5 races during the season on a 12'6, 3 races in the "long" and 2 races in the "short". She would not qualify for series points since she did not compete in total of 5 races of the same race length category.
ie: Timmy is a race board connoisseur. On any given day he may pull a 12'6" Bark or a 14' Bote from his quiver. Timmy competes in 6 races all in the "long" category, but uses a 14' in 3 races and a 12'6" in 3 races. Timmy's point totals would not count for the series since he did not use the same board class for 5 races.